I had the best bridesmaids for my wedding. These were all so beautiful both inside and out.
I realized how much they all meant to me the day of the wedding. They were there for me at
all times. To hold my bouquet, to fix my dress, and to make sure I ate so I didn't faint at the altar!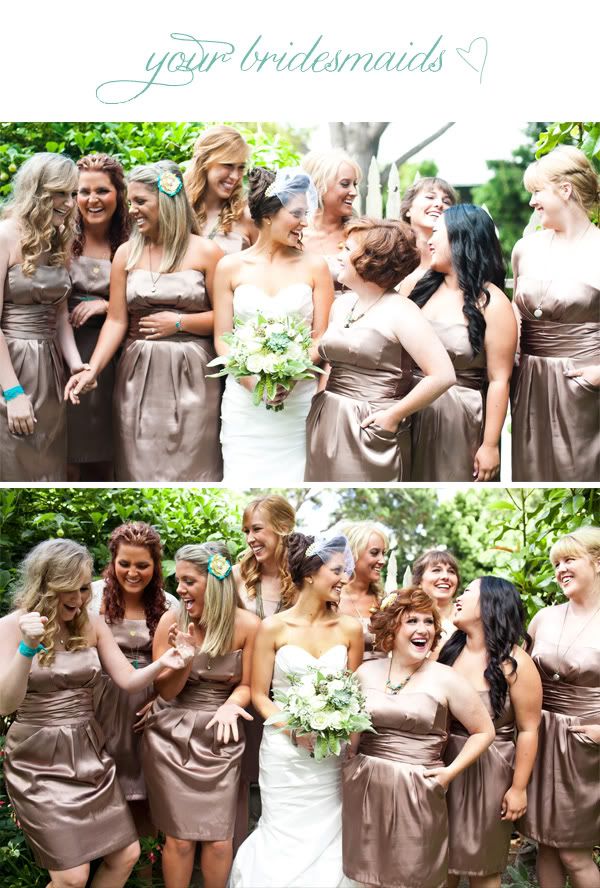 It was really hard for me to choose how to dress my bridesmaids. I really wanted everyone to
feel good an comfortable in what they were wearing- I wanted a dress that worked for everyone.
That wasn't easy to find! I came to the conclusion that I wasn't going to please everyone.
(I hate that- not pleasing people) I wanted something uniform, but with everyone's personal style
coming through. So I had my girls all wear the same dress and accessorize how they pleased.
The day came and everyone looked amazing!
I sent out this little bridesmaids guide on what to wear to make it fun and easy for the girls to get
an idea of what the look was. (I'm a visual learner, so I had to give a visual example!)
I think they look pretty
amazing
, right! I was so happy with the way the colors came together,
because I really had no idea if it was going to work! And these ladies are all gorgeous, so that
didn't hurt the fact :)
On your wedding day, you truly really realize how important your close girlfriends are. There is no one
like them. Its not always easy being friends with girls. We're moody, full of drama and totally selfish
at times. But on the flip side, we're also extremely loving, nurturing and caring when we want to be. We all have bad days, but we need to stick by each other's sides and forgive one another when those days come- or life just hasn't been panning out the way we planned. Because we need each other, and we need to be forgiven too. There's no friendship like a good girlfriend. Hold on to those friendships- treasure them like gold. Because they don't come around everyday.
I had some amazing moments with my girls that day. We laughed, we cried (hard) and we prayed.
I love this photo of my bridesmaids laying hands on me, and praying for me. Cause I needed
those prayers at that time- and they were right there to give them to me.
I love these ladies to death- and I am blessed to have each one of them in my life. (Ok, I'm tearing up now... ) But seriously. I don't know where I would be, or who I would be without each of you.
Treasure your friendships ladies, because we need each other!
Happy Tuesday friends- call up your girlfriends. Tell them you love them :)