And its oh so easy. Nolan really is a better cook than I am, but I'm learning and he likes
to teach me these fun recipes every once and awhile.
After carving pumpkins at my cousins house last night, we had a ton of seeds left over.
Nolan wanted to take them home to our house to roast them. So we did.
They turned out pretty tasty too! Here's how you do it:
Pre-heat the oven to 375.
Rinse your pumpkin seeds.
Spray a baking pan with non stick spray and oil the seeds with olive oil.
Next put your spices on top. Nolan used chili powder, lemon pepper and salt.
Let them roast for 15-20 minutes or until golden brown.
Take them out, let them cool, and eat up!
This was the pumpkin he carved.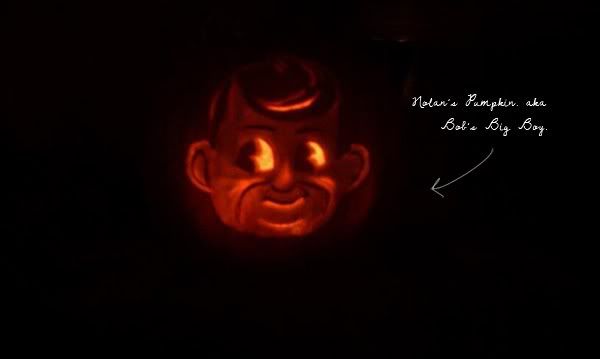 Happy Halloween everyone!!